After an Atlanta Newborn Photography session my clients have the option to place an order for one of my favorite product lines that I offer through Erica Aitken Photography: Professionally printed custom-designed cards are composed of original photography from your Atlanta photography session and innovative design, packaged together for a memorable greeting that everyone on your list will love to receive! With flat, folded and trifold card options to choose from, you'll end up with a card that's a unique reflection of your family's personality and style.  
After capturing many priceless moments during your Atlanta photography session, my client and I confer to determine the theme, colors, message and photographs included in their custom-designed cards.  Then this here photographer-turned-graphic-designer (me) lovingly lays out and revises the card until it's mail-ready!  
Jackie and Geoff opted for flat 5×7 custom-designed newborn announcements from their sweet darling's recent Atlanta Newborn Photography session.  These cards are laid out on the front and back; like a postcard.  They come with 5×7 envelopes so they are completely ready to mail!  Easy-peasy!  Here's sweet baby Will's custom-created newborn announcement:
FRONT OF ANNOUNCEMENT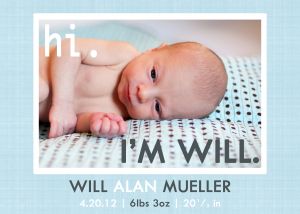 BACK OF ANNOUNCEMENT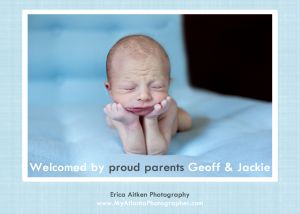 Because Jackie and Geoff booked The Adored Baby Session package, they received 25 complimentary custom-designed announcements included as part of their package purchase!
The Adored Baby Session package with Erica Aitken Photography includes four photography sessions to track the precious moments of an adored baby's first year.  I work with the family to preserve all the priceless milestones of their little one's entrance into the world through a collection of four different sessions, including:
~ 1 Atlanta Maternity Photography Session: Best captured between weeks 34 and 36 of pregnancy. ~
~ 1 Atlanta Newborn Photography Session: Best captured within 10 days of baby's birth. ~
~ 1 Atlanta Baby Sits Photography Session: Best captured when little one can sit up confidently, usually between 6 and 9 months. ~
~ 1 Atlanta Baby Walks Photography Session: Best captured when sweet pea is standing and walking, usually between 11 and 14 months. ~
Make sure look out for more Atlanta Newborn Photography announcements to come from your Atlanta Newborn Photographer!
Warmest Wishes from Your Atlanta Newborn Photographer,
~Erica Aitken (formerly Erica Hodgdon)
Erica Aitken Photography
My Atlanta Photographer
Atlanta, Georgia
(404) 556-8780
Erica@MyAtlantaPhotographer.com

Visit me on Facebook or click on one of the links below to share this page with your friends and family.